Polo shirts look great, but wearing them right can be tricky especially for you guys. To that end, read on for our favorite men's polo shirt outfit ideas.
The polo shirt is one of the most iconic men's clothing. Although historically associated with golfers, in fact, the polo shirt has become a common garment worn by everyone. Starting from interns to celebrities were seen wearing it.
However, polo has also developed a reputation for being rather basic and lame. That's probably because polo is part of many uniforms. You can see that everyone from elementary school boys to workers is wearing these polo shirts. Polo shirts are also an integral part of a neat college look that most guys avoid.
So how do you make a polo shirt look good without looking like a ten-year-old or middle-aged man? Check out our review of the 11 best men's polo clothing ideas below!
Polo Shirt Deconstruction
Before we dive into the discussion of the mix and match of polo shirts, let's look at the characteristics of the polo shirt itself. The Polo t-shirt is basically a button-down collared short sleeve shirt. Functionally, it is very similar to a t-shirt, but it is the collar and neckline that sets it apart. Polo shirts can also have chest pockets, although that is not a universal feature.
In terms of material, a polo shirt is usually made of knitted cotton, which makes it slightly heavier than a t-shirt. Cotton is the most common material for polo, although some may have polyester or Spandex inside.
There is no "best" material, but the combed cotton polo shirt is the most comfortable for you to wear in any season. 100% cotton can be very comfortable if the cotton is of high quality, although high percentage cotton blends (such as 95% cotton and 5% Spandex) are also good.
If you've ever shopped for polo shirts, you've probably seen the terms "pique" and "jersey" thrown around. These terms refer to knitted fabrics. The pique knit has a textured waffle weave, while the jersey knit creates a smooth, even surface.
Commonly Used Polo Shirt Materials
Most of the polo you come across today are polo shirts with a pique knit. In fact, many people use "polo pique" to describe the standard polo shirt. Due to the cross weave, the pique polo is much thicker and more sturdy. While the jersey knitted Polo is lighter, similar to a t-shirt.
Both types of fabric are pretty good, but pique knitting is much more common than jersey knitting.
It is important to know the difference between pique and jersey knit. Some outfits may go well with pique polo but not so much with jersey polo. And, of course, they feel different, so you need to know what to wear.
Learn more about the Types and materials of Polo Shirts here
A Word About the Polo Shirt Brand
Some of the reasons why polo shirts have such a bad reputation have to do with branding. You may be familiar with polo shirts that have very striking branding like these: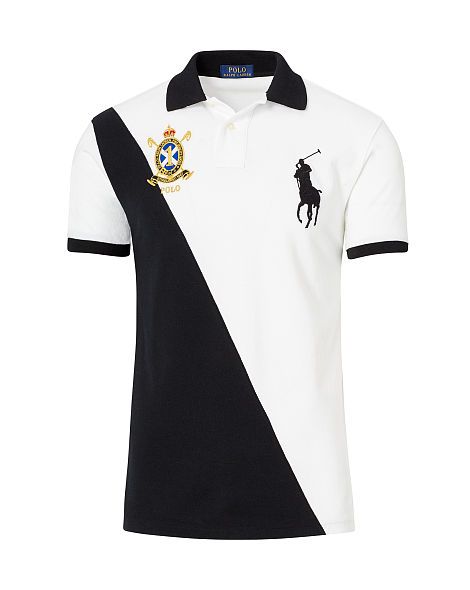 In fact, this is what many men think when they hear the term "polo shirt".
Branded polo shirts like these tend to detract from the essence of the true polo shirt by covering it with a large logo. And unless you're a real polo player, it's hard to successfully rock that logo.
That's why one of the best ways to wear a polo shirt is to use polo with minimal or no branding. It just gives you a more classy and understated look that doesn't make you look fancy.
OK, without further ado. You are here to learn how to wear a polo shirt for men, so let's get started. Here are our favorite men's polo outfit ideas for all seasons and situations.
Casual Polo Shirt Ideas
Let's start with some casual polo looks…
1. Smart Casual Polo With Chinos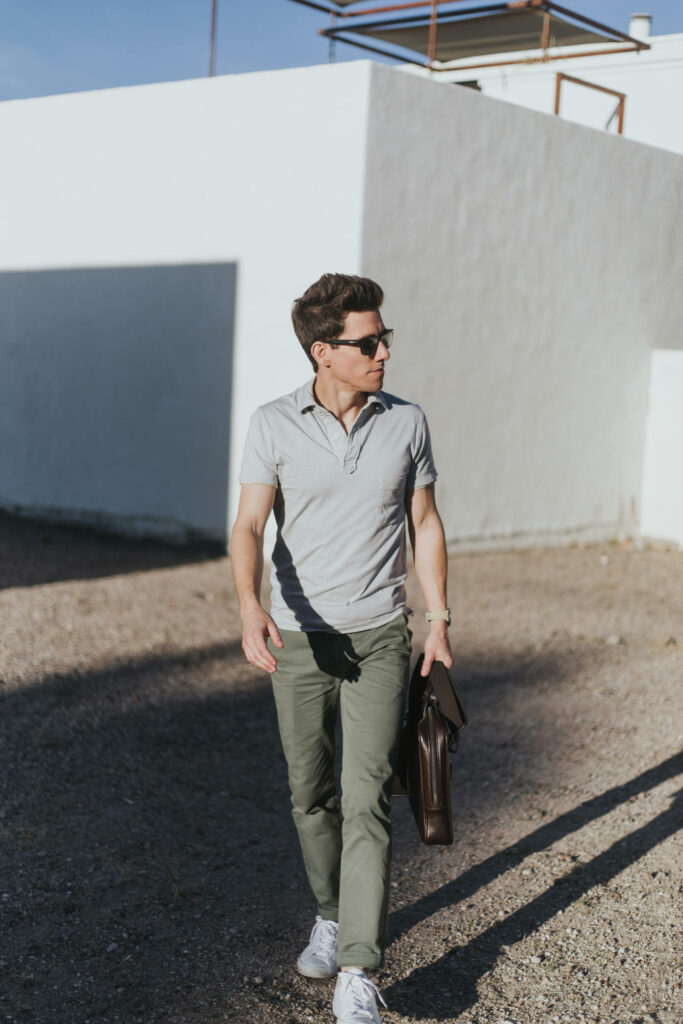 Here's a simple yet stylish outfit that's great for almost any situation or season (okay, maybe not winter). Actually, Polo shirts go well with a variety of pants, but chino pants really complement and blend with your polo outfit.
If you want to look smart, wear some accessories to your outfit. A good watch is always a safe bet that fits the polo aesthetic well.
2. Casual Neat Style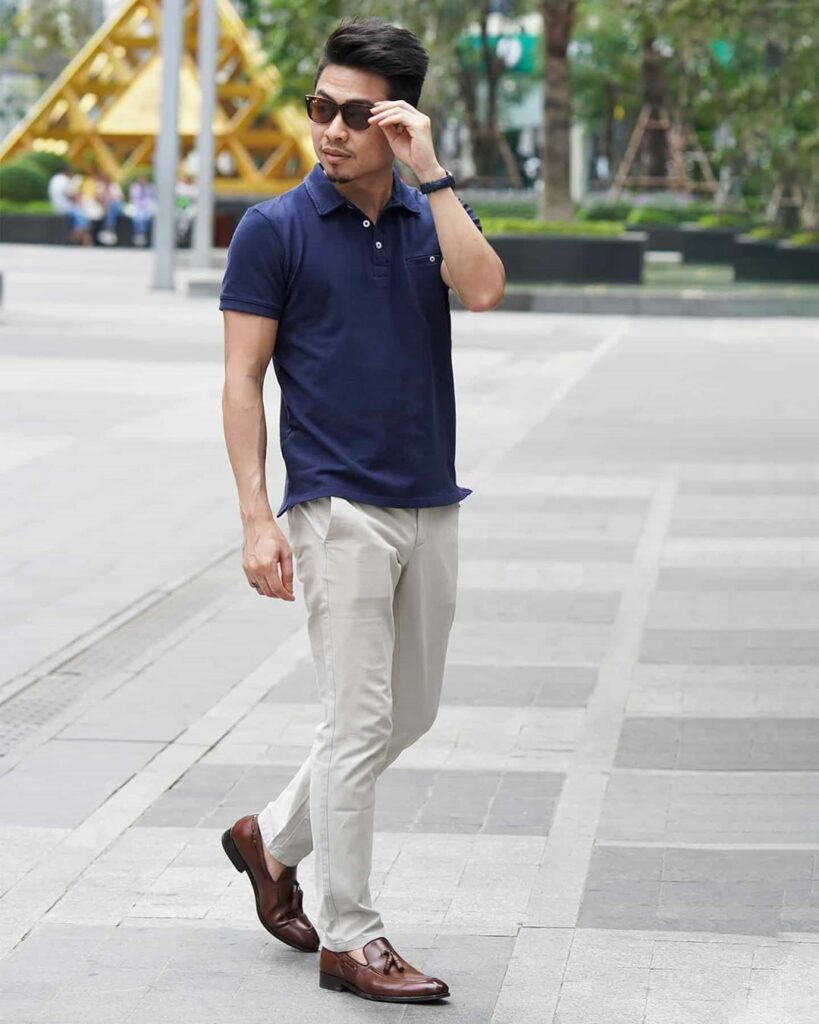 When you think of a polo shirt, you probably think of clothes like this one. It's an elegant version of the neat college look often associated with the Ivy League or other private schools. Both the pique polo and the jersey will go well with this look.
This is an excellent outfit for situations that call for smart casual wear. If you want something more casual, you can always replace the shoes with a pair of boots or slip-on.
3. Casual Polo Shirt With Shorts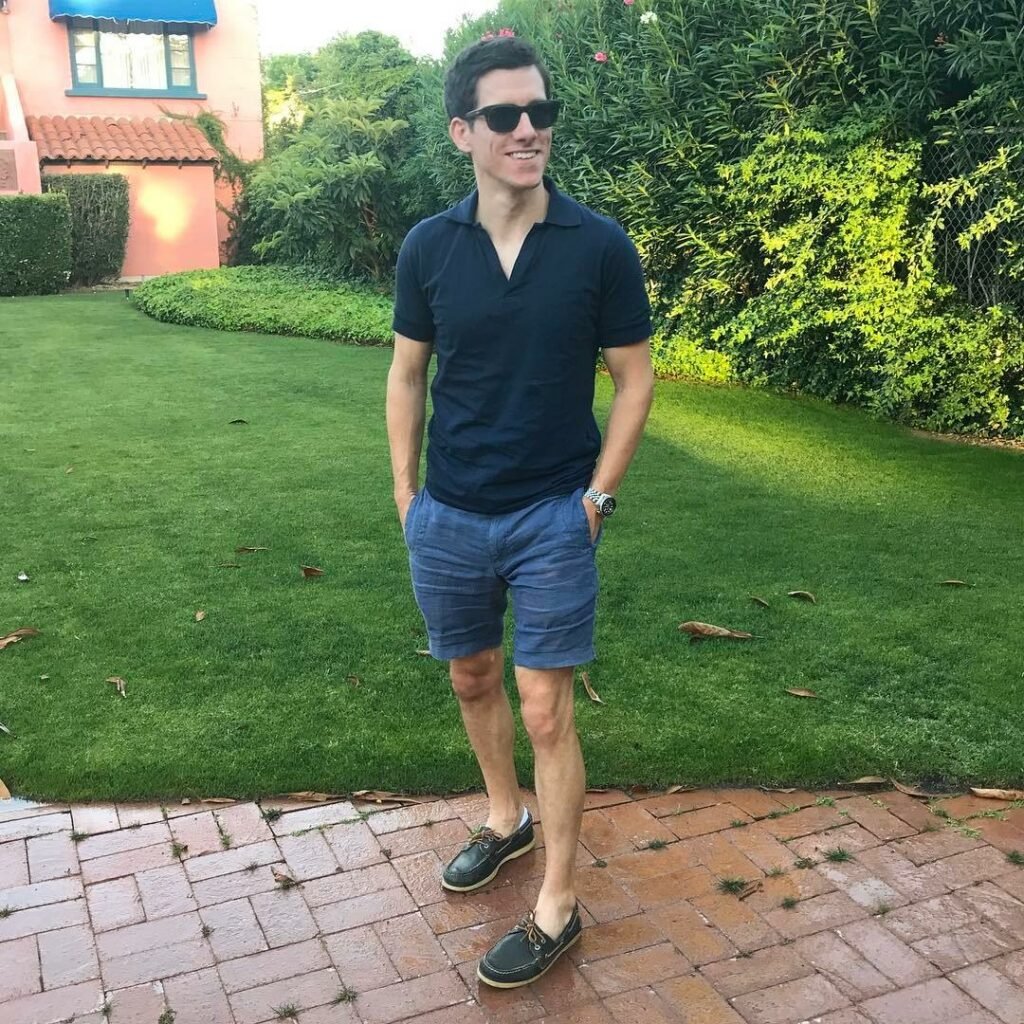 If you need a summer outfit that isn't just an old t-shirt, look no further. The combination of casual polo with shorts is a definite winner for this summer. This outfit will keep you cool on the go and look cool when it's hot.
Again, you can change shoes depending on the mood you want. These boat shoes add an extra touch to your outfit, but you can also wear anything from sneakers to loafers.
4. Polo Shirt And Jeans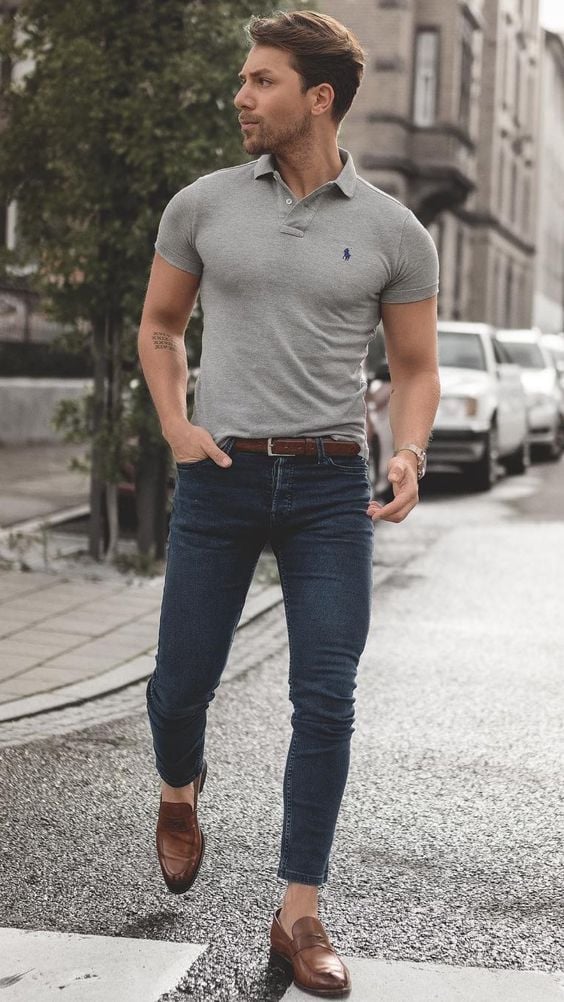 Wondering how to wear a polo shirt with jeans? This is the type of clothing style that is easy to abuse but can look fantastic if you do it right.
A fitted polo pique is best because the texture of the shirt will match the texture of the denim, resulting in a truly balanced outfit. Think of it as an upgrade from the classic t-shirt and jeans combination.
5. Combination Color Polo Shirt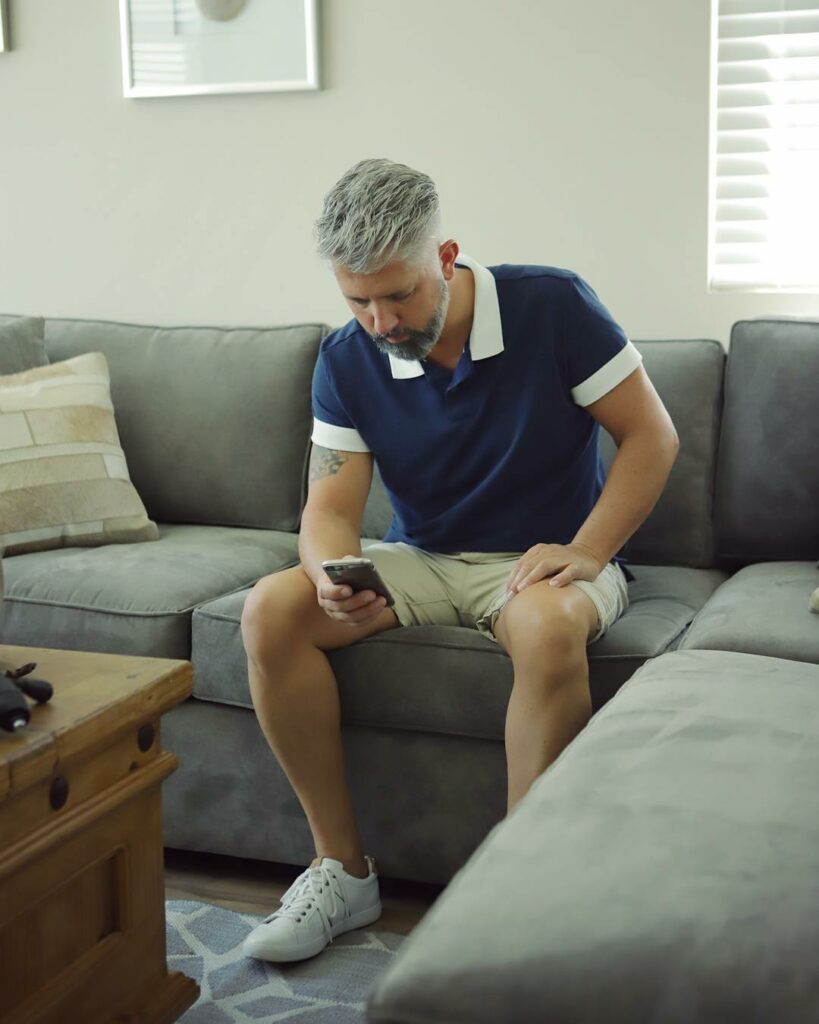 If a plain polo shirt isn't your thing, try a two-tone polo shirt that uses a different color for the collar (and sometimes the cuffs). Pictured here is a nice navy-white combo that looks great with shorts.
6. Dark Polo Shirt With White Pants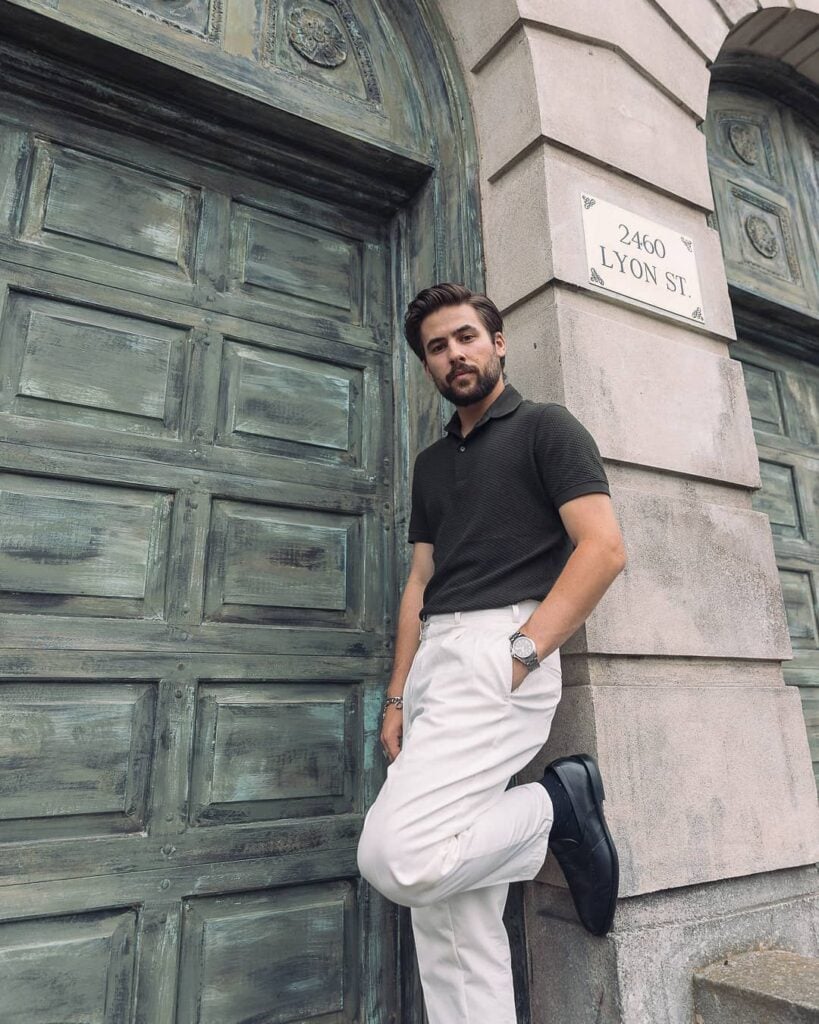 This stunning black-and-white look is understated yet expressive. White trousers cling to polo and black shoes, but this is by no means a flashy outfit. The watch is a nice touch that adds some gray tones to the mix.
7. Neutral Polo Shirt With Chinos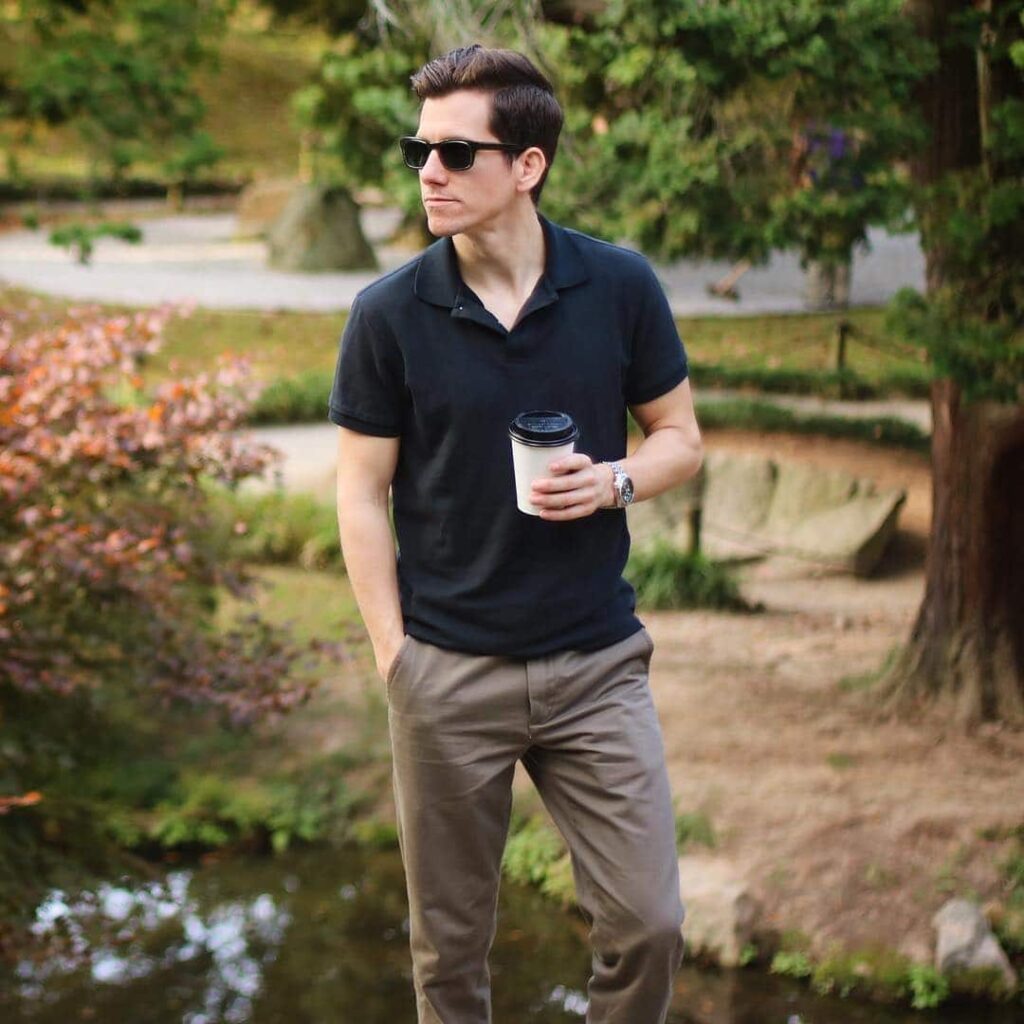 This is the kind of outfit you might wear for Casual Friday at your office or maybe for a family dinner or social event.
Choosing a dark color like black or navy for your polo shirt will give it a more formal look, and pairing it with simple pants will make it look more formal. In the end, it's still casual wear, but much more stylish than, say, t-shirts and jeans.
8. Combine Polo Shirts With Coats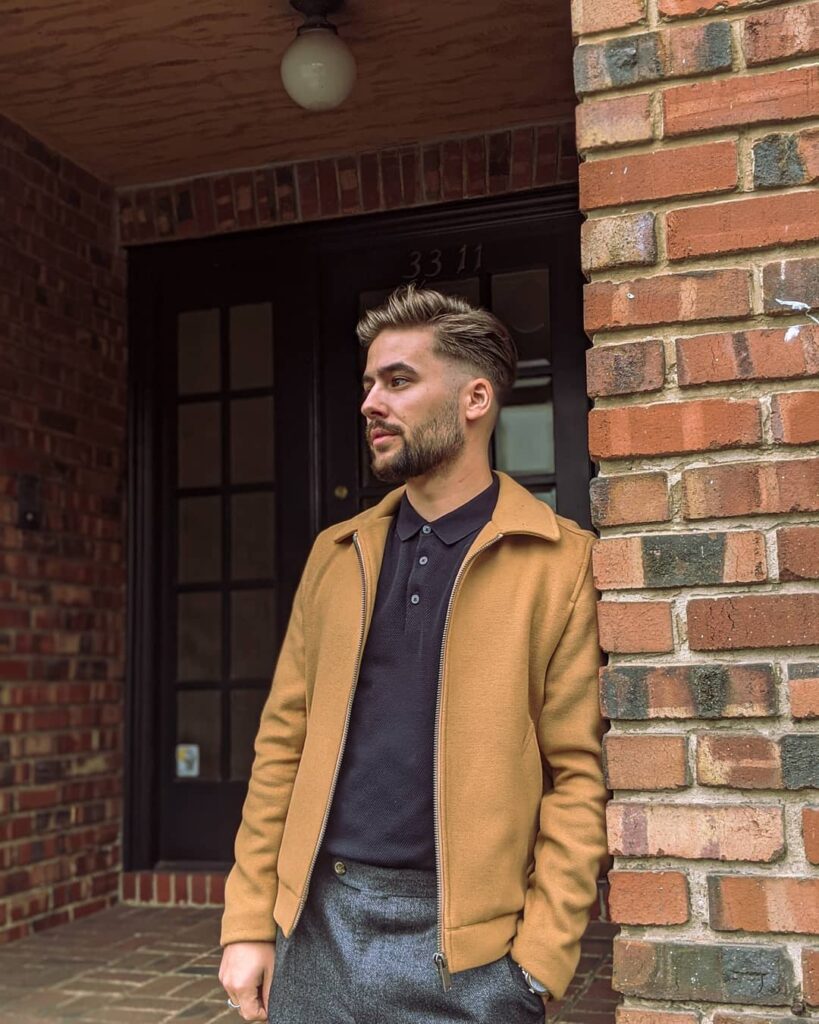 Another great outfit for fall and winter, this pair of button-down polo and a bold coat will keep you super stylish while keeping it minimalistic. This outfit allows you to stay warm without having to use multiple layers, making it the perfect choice for cold weather.
Dressy Polo Outfit Ideas
You can also dress up your polo shirt. Here are some outfit ideas…
9. Formal Polo With Dress Pants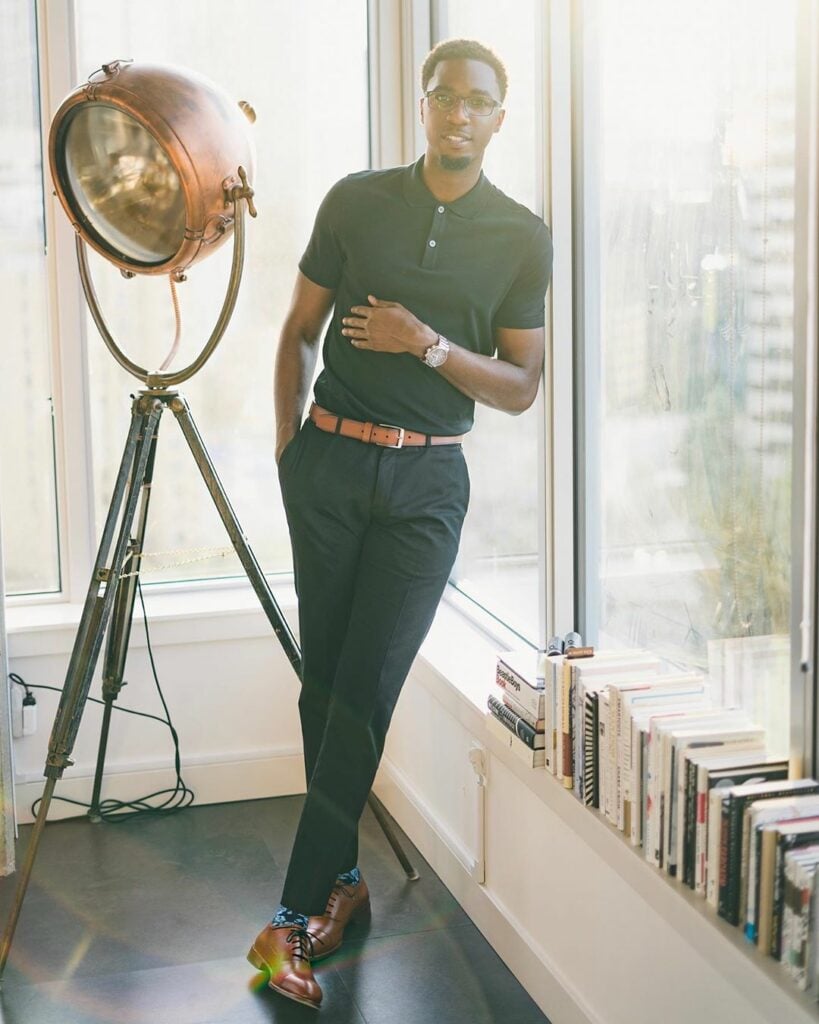 For a more formal outfit, tucking in a polo shirt makes a big difference, and adding a belt will increase the level of formality. Finish off your look with some nice trousers and shoes, and you're good to go.
Polo shirts are a type of clothing that can blend in with their environment, so wearing lots of formal elements will give the polo shirt a more formal look as well.
10. Wear a Long Sleeve Polo Shirt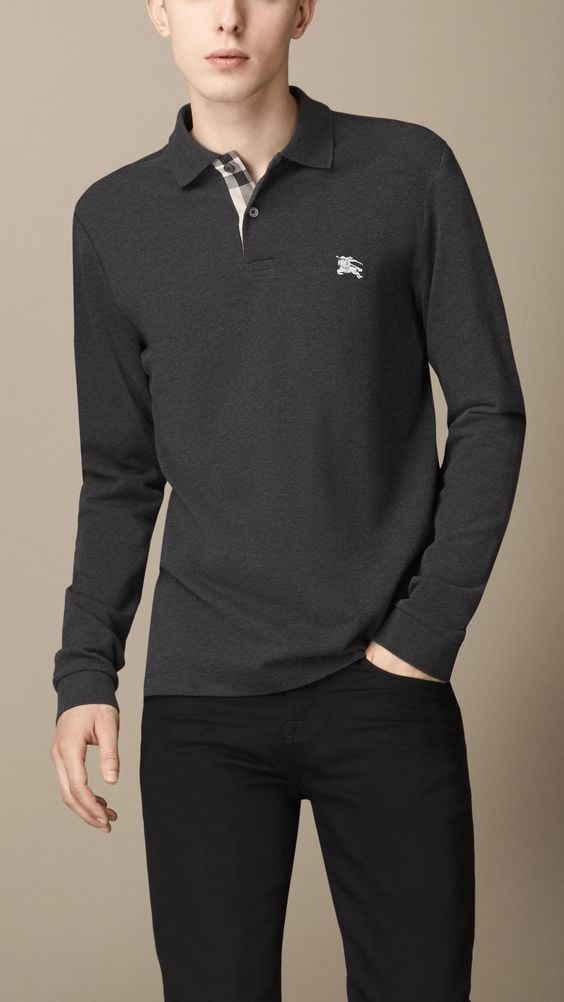 Yup, polo shirts also have long sleeve variations. Although rarely seen, it has a very good look and offers something a little different.
Long-sleeved polo shirts provide extra warmth, so if you want to know how to wear a polo shirt in winter, try a long-sleeved polo. You can even layer it under a cardigan for added insulation.
11. Wear a Polo Shirt Under the Blazer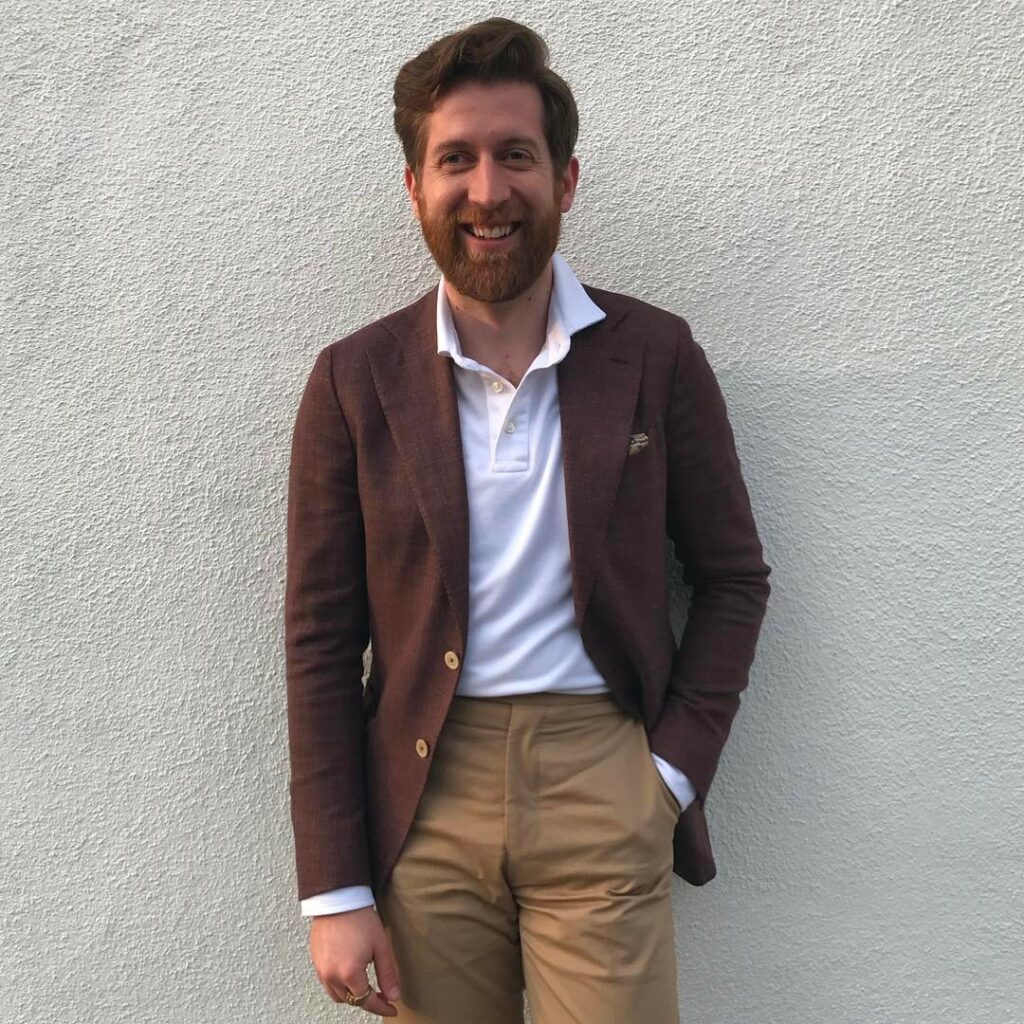 Closing our list is this unexpected but dapper crossover. Wearing a polo under a blazer is not at all common, but it works surprisingly well.
A thicker, long-sleeved pique polo tucked into a slack complements a smart blazer, and it all comes together for well-balanced formal wear.
Conclusion
Those were the 11 best polo clothes ideas for men that can make you look even cooler. You can mix and match a polo shirt with a variety of outfits and styles. If you still have your old polo shirt, why not try to wear it once in a while?
How? Among these several styles of polo outfits, which one is your favorite? Don't forget to write it down in the comments!
Article source: Ozza Konveksi