The clothes design application is perfect for those of you who want to run a clothing store, fashion business or develop your own clothing brand.
For most people, smartphones may only be used to play games, social media, chat or youtube, even though you can do many productive activities.
Well, for those of you who have a hobby of design, especially t-shirt design, there are a variety of the best shirt design applications that you can try.
For that, this time we have summarized some good and free clothing design application recommendations for Android to design the clothes of your dreams. Come on, see the reviews!
Collection of Free Shirt Design Applications for Android
1. T-Shirt Design – Snaptee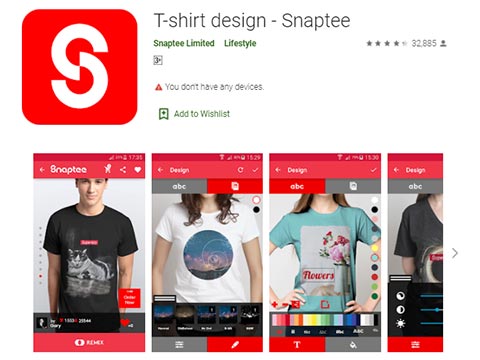 Snaptee is the first android shirt design application in the world that allows you to create your own custom t-shirt with only your Android smartphone.
Regardless of your design experience, you can easily complete your unique design using this application with ease. You can DESIGN, ORDER, and even SELL your unique t-shirt creations completely within the app.
The next advantage of this application is that Snaptee has cool features such as photo and Instagram integration, a wide selection of fonts and color templates that you can choose by yourself, special filters, and various kinds of t-shirt templates for your clothes designs.
2. Clothing Pattern Design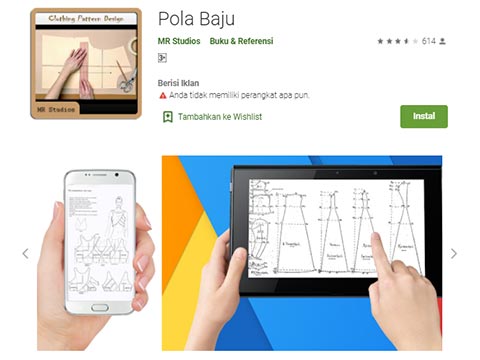 This offline clothes design application is specially designed for those of you who want to make your own shirt design pattern. This android application can be used as a reference in making the correct sewing pattern for clothes because it has various kinds of clothing design images.
The advantages of the clothing pattern design are that it can run offline (does not require an internet connection), is easy to use, lightweight, supports almost all Android devices and saves memory.
3. T-Shirt Design Studio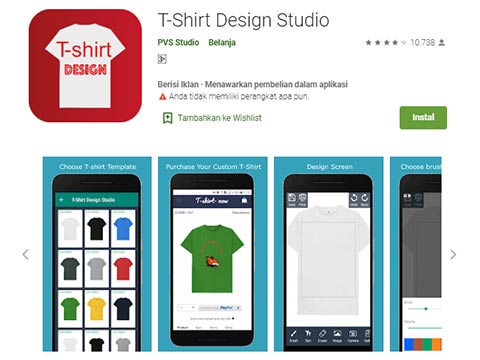 T-Shirt Design Studio is an application for designing custom t-shirts. This application has features that are quite complete and interesting. At T-Shirt Design Studio, users can design shirts according to their individual tastes. The T-Shirt Design Studio application has many t-shirt templates and ideas for reference in making your t-shirts.
The advantage of this product is that you can import your design into a t-shirt and print it directly. It has thousands of picture templates as well as stickers for decorating your T-Shirt. In addition, this shirt design application is equipped with a powerful photo editor and a variety of T-Shirt templates to choose from.
Related Article: 10 Best Dekstop Apps For Clothes Design
4. Fashion Design Flat Sketch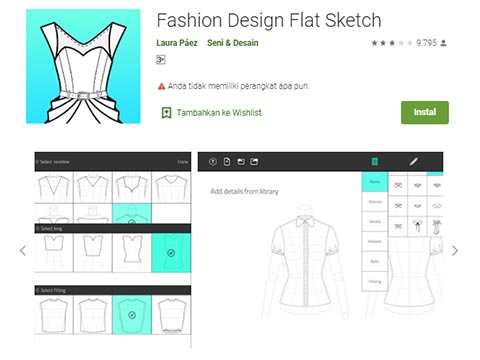 This application made by Laura Paez is suitable for those of you who want to make women's clothes quickly. If you are a designer, pattern maker, illustrator, or have a passion in fashion then this application is perfect for you.
Fashion Design Flat Sketch has now been downloaded more than 1 million times so you don't need to hesitate to use this app.
5. Clothes Designer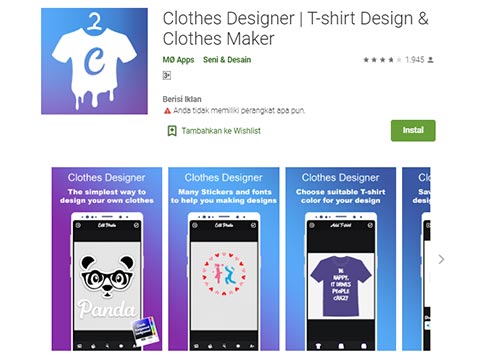 Want to design t-shirts online via your smartphone? Maybe you can try the Clothes Designer application which makes it easy for you to design your favorite clothes.
All you need to do is simply make a design first using the available icons, photos, text, backgrounds, and sticker templates.
After finishing designing, you can place it on the t-shirt or sweater that has been provided. So, interested in using it?
6. T-Shirt Design Maker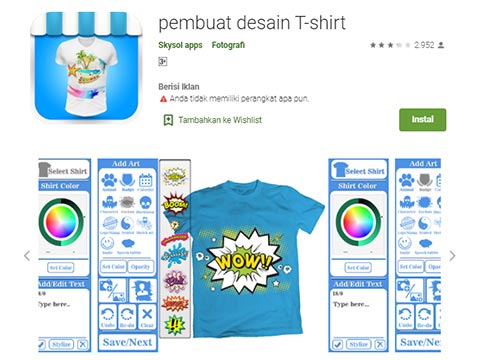 Just like the pre-existing application, you can use the T-Shirt Design maker to make your custom t-shirt design. One of its flagship features is that you can add stickers to your shirt design.
7. Custom Ink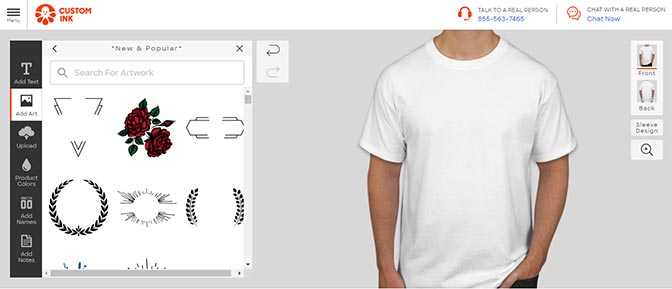 Custom Ink is an online shirt design application that is suitable for those of you who don't want to install an application. You can also easily access the Custom Ink site via a PC, laptop, or smartphone. This site provides a variety of shirt templates, ranging from t-shirts, shirts, hoodies, and more.
For you sports fans, you can also use Custom Ink to design sports clothes such as futsal jerseys, for example with the option of adding a jersey number.
8. Canva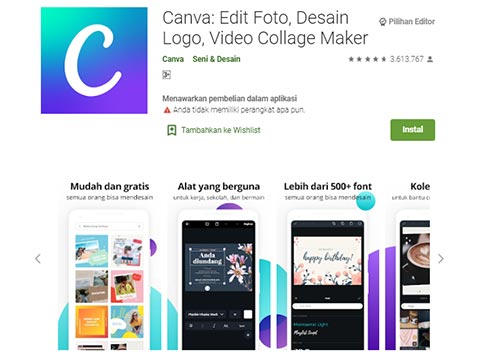 Actually Canva is not an application for clothes design only but an online design site for various purposes. However, you can use Canva to design your clothes because Canva already provides various templates to design your clothes.
The advantage of using Canva is that you can design clothes using your gadget using either your Desktop PC, Laptop, or even your cellphone as long as you have an internet connection.
Besides that, you also don't need to worry if the electricity connection in your house suddenly turns off because Canva will always save your designs automatically periodically when making design changes.
9. Tees Indonesia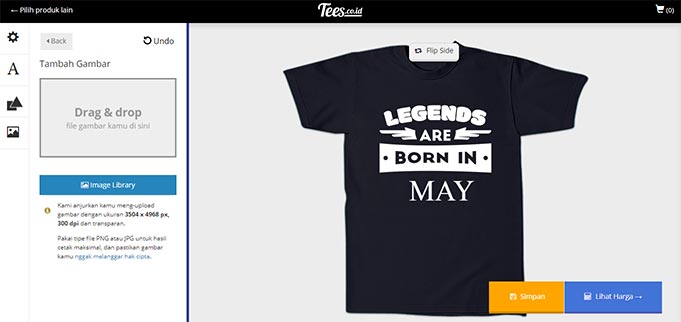 In the last list, we have a website made by the nation's children, namely tees.co.id. In addition to selling various kinds of clothing products such as adult and children's t-shirts, jackets, hoodies, varsity, long-sleeved shirts and raglan, you can also use them to design your own custom t-shirts.
10. DesainKita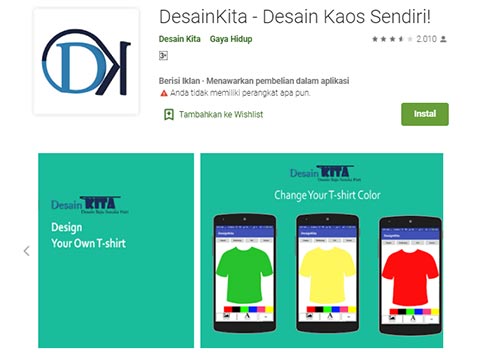 This application made in Indonesia is quite easy to use. For those of you who are still confused about how to design t-shirts but can't draw, the t-shirt design application from DesainKita can help you to make the t-shirt design you want.
Simply drag, resize, import image, and choose the color of the t-shirt you want, then you can share your own t-shirt design.
Article source: ozzakonveksi.com