In the world of the fashion industry, color is one of the most important things to pay attention to. So, what neutral colors are commonly used in the fashion industry? What is the best neutral color for your outfit? Find the answer here!
What Is Neutral Color? The Definition Of Neutral Colors
Neutral Color is defined as a color produced by mixing primary, secondary, and tertiary colors. Meanwhile, a fashion magazine called Attire Club in its November 2018 issue published an article about neutral colors with the title What Are Neutral Colors? Point out that Neutral colors are colors that don't attract too much attention and thus can be mixed and matched with other colors.
Some neutral colors include; black, beige, khaki, brown, navy, ivory, white, tan, camel, grey and, according to some, the dark color burgundy is also very versatile.
A neutral color is most clearly defined as a hue that appears colorless and usually doesn't appear on the color wheel. Therefore, neutral colors do not compete with primary and secondary colors and instead complement them.
Here is an example of a sample neutral color palette that is often used in the fashion industry;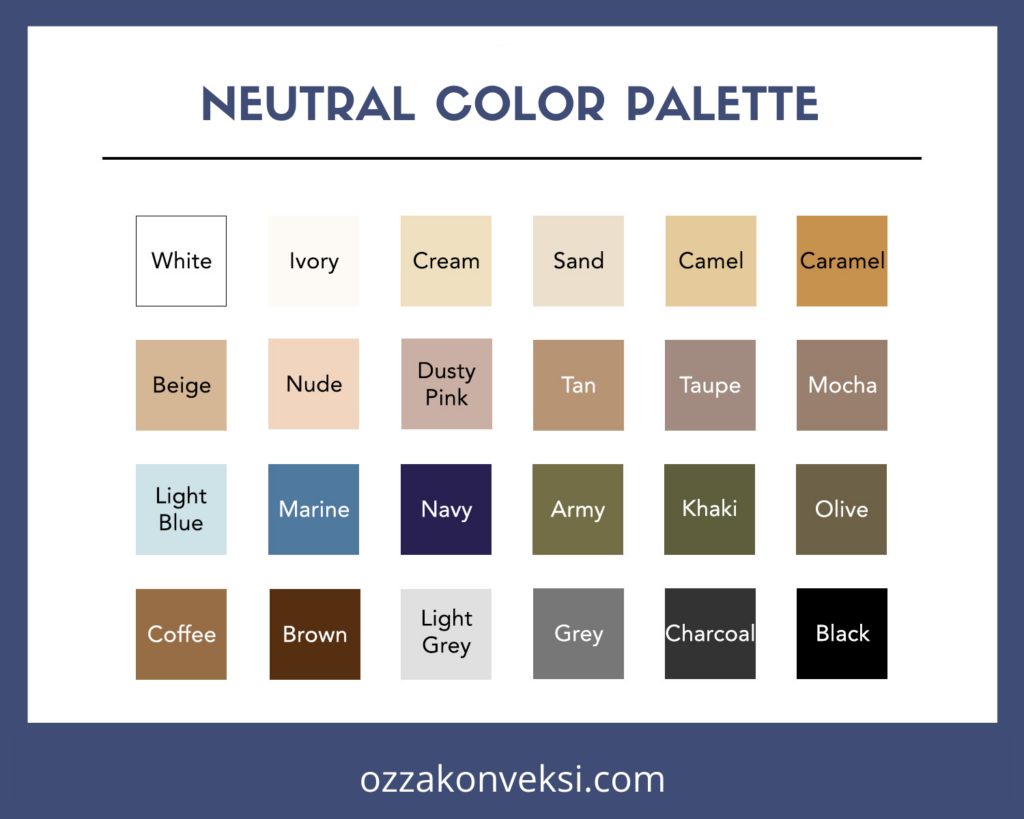 The Influence of Clothing Color in Psychological Perspective
One of the studies on color and its use is from Kodzoman (2019). In this study, Kodzoman (2019) provides an explanation of the use of color in clothing. Kodzoman (2019) explained that the color in clothes depicts identity, feelings, and what is believed to convey identity, emotions, self-portraits, and artistic values.
The choice of colors in clothes determines a person's character, neutral colors according to Kodzoman (2019) include uniform colors such as black, white, gray, and beige brown. In the results of Frank & Gilovich's (1988) research, the color is part of a character reflection with a firm and simple impression.
Why Should You Wear Shirts With Neutral Colors?
Neutral colors are often associated with being easy to mix and match, for example, bright green and ivory. Bright colors like yellow can also turn on neutral colors so they don't seem lonely.
1. Neutral colors make it easy to choose clothing colors
Like the previous statement, neutral colors are colors that don't attract too much attention. Therefore, clothes with neutral colors can be an option for you if you are forced to hang out but don't have much time to choose clothes.
When choosing clothes with neutral colors, sometimes there is still a desire to appear more outstanding, you can mix and match between bright colors for your top or your bottom.
2. Neutral color clothes can balance your outfit
Sometimes you don't require a too bright appearance, neutral colors can be mandatory stock for you to make it easier to choose clothes according to the event. You can mix and match bright clothes full of patterns with plain neutral clothes.
All Kinds of Neutral Colors
In general, colors that are considered neutral are white, beige, brown (tan), gray, taupe, and black, and even blue can be a neutral color. why blue too? Take a look at the blue denim jeans, which are always perfect when combined with any shirt color.
For ordinary people, they only know that neutral colors are just black and white.
Neutral colors, like any other color, can be divided into two categories: warm neutrals and cool neutrals. where cool neutral colors have cool shades to the eye. while warm neutral colors will give a cheerful and uplifting atmosphere.
Then what kind of neutral color choices are suitable for your clothes? Well, here we will detail it in full!
Neutral Colors For Clothes
We always see neutral colors in the fashion world because the combination of neutral colors with other colors can balance the color of human skin.
An easy way to choose an outfit is to pick one to three neutral colors that you like and look good on you and start assembling some fashion basics in these neutral colors. It's a good idea to have the following items in the neutral color outfit you've chosen: Jackets, pants, jeans, skirts, and sweaters.
1. White Color Outfit
White is one of the few colors that are easy to match with most outfits. In the West, wearing white is considered summery, youthful, sharp, clean, open-minded, and efficient. You can try wearing a Ralph Lauren polo shirt in white which you combine with boyfriend jeans. This casual outfit is perfect for those of you who like the simple style
2. Grey Color Outfit
Gray is a neutral color that suits all skin tones. Gray symbolizes sophistication, elegance, and stability. It can also project simplicity, neutrality, or minimalist on a wearer. In fashion, gray is a neutral color typically used to make an outfit less noticeable and prominent.
You can try using the athleisure style that is currently trending by combining a gray zipper jacket with a crop top interior. For pants, you can use sweatpants in the same color as your jacket.
This style is suitable for those of you who want to show little abs after the hard work you are doing.
3. Brown Color Outfit
If you are looking for a neutral outer color for all clothes, then you can use brown. The brown color is the right color for those of you who like minimalist style. This color is quite popular because it can give a classy and sophisticated impression when paired with the right color.
You can choose pastels shades of pink, green, blue, yellow, and grey with brown clothes. If you love solid colors, green, yellow, orange, or Fuschia are the best colors that you can use along with brown. Or, when in doubt, opt for safe, neutral shades like beige, black, white, or dull gold.
4. Khaki Color Outfit
Khaki is a kind of light brown cloth or the color of a cloth similar to dry rice straw. The name is derived from the Urdu khak which means the color of the earth or the color of ash. Genuine khaki fabric is linen or cotton that is tightly tucked in. This is a neutral color that is suitable to be combined with other outfits.
In the past, the color khaki was often used in making uniforms, especially for army uniforms. If you need a formal uniform that suits all types of skin tones, then khaki can be a safe choice for you.
5. Navy Blue
Navy blue is also a neutral color that is suitable for you to combine with other outfits. Not only does blue create a sense of calm and relaxation, but it also evokes a sense of cleanliness. You can wear an outfit such as a knitted wool sweater with a navy base color combined with baggy jeans of the same color. You can also add complimentary accessories such as a navy beanie hat.
6. Black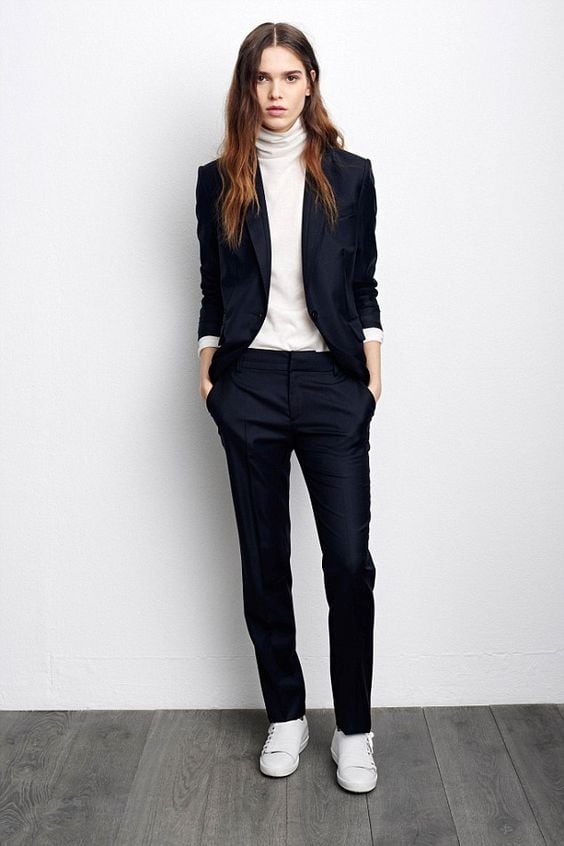 Another neutral color that you can try is black. You need to pay attention that you have to be careful in combining black outfits, especially for those of you who have dark skin colors so you don't look drowned.
If you have an outfit with black as the main color, then you can try combining it with charcoal and gray. White is also a good color for you to combine with black outfits.
For those of you who are working in a company, you can try using a suit with a combination of black and white as the basic color. Use a white turtleneck for the inside with a cool black suit. For pants, you can wear culottes in the same color as your coat.
Source Reference:
Kodzoman, D. THE PSYCHOLOGY OF CLOTHING: Meaning of Colors, Body Image and Gender Expression in Fashion. 2019
Ozza Konveksi. Warna Netral Untuk Baju Cocok Untuk Fashion Kamu. 2022